About Me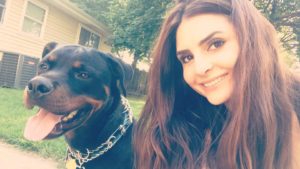 First, I want to welcome and thank you for visiting!  My name is Nikki Mongolis and I am a fitness instructor and health & wellness fanatic.  I created Sexy Organic Strong with the hopes of inspiring others  to live a healthy, happy and well-balanced lifestyle.  I'm here to share the knowledge that I've learned and the experiences that I've had to help people make the best choices for themselves .  I think it's obvious most women want to be sexy, strong, and feel comfortable in their own skin. With everything we have going on in our lives, that sometimes feels impossible to accomplish!
At 38, and through a lot of trial and error in my life, I've learned that the best way to keep your ageless glow and to feel sexy and strong is to live a healthy and balanced lifestyle and hold yourself accountable.  Sounds simple enough, right?  Then WHY does it feel so damn hard?  There are always going to be bumps in the road, and things that come up that make it seem impossible .  That's why I'm here.
Growing up, I was always extremely active.  In fact, I loved trying out new things all the time.  Swim team, volleyball, basketball, tennis- you name it, I wanted to try it out.  I remember watching Wonder Woman reruns as a little girl and telling my parents that was what I wanted to be.  It was no surprise that a few years down the road I wanted to be a martial artist too.   I was lucky enough to always have an amazing support system, and my parents signed me up for Tae Kwon Do.  I absolutely fell in love with it, and 10 years, and I had earned my 2nd degree blackbelt.  I loved the feeling of being the strong girl that could take on all the boys.  I continued my Tae Kwon Do well into my twenties, teaching classes and training every chance I got.  It was around this time I started to lift weights as well.  That came from my dad.  My parents have a bit of an age difference, 18 years to be exact, and my dad didn't have me until he was almost 44 years old.  He was always the older dad when I was a little girl, but not to me.  I always admired how healthy he was, and in fact, was in better shape than the fathers half his age.  Why?  He ALWAYS worked out and ate right, and that really stuck with me.  It wasn't always smooth sailing though, and in my mid-twenties I finally really learned the connection of exercise and food and the importance of nutrition and taking care of your body.  To make extra money, I started bartending and that's when some healthy habits started to change.  All of a sudden it was late nights, too much drinking, an occasional smoke and fast food.  Naturally, the hang overs would follow the next day, and I started skipping my workouts as well.  After just a few months, it caught up with me.  I gained over 50 pounds, and  felt horrible about myself.  Even though I was still active, I had gained this weight and had zero energy.  I also started to break out, and my self-esteem was at an all time low.  I just wasn't happy with myself.  I realized I was heading in a very undesirable direction.  Instead of feeling sorry for myself, I decided to stop making excuses and really commit to a lifestyle change.  Initially this started with research on everything about nutrition, and  I was definitely obsessed.  I changed my diet, increased my workouts and started to get proper sleep.  Immediately I noticed changes.  At the time I was still bartending, but I was taking care of myself.   My energy level came back in full swing, my skin glowed, weight melted off, and most importantly,  I was comfortable in my own skin again.  I would still go out and enjoy myself, but I found a balance and learned that when you make the right choices about how to treat and fuel your body, you'll reap the rewards.  It was at this point I realized, this is what I want to do with my life.  Help others feel passionate about health and fitness, and find a balance that works for them.  That's why I created this blog.
At 38, the number one thing I hear from people is "There's NO WAY you're that old!"  My response is age is just a number, and you're only as old as you look and feel.  If you're healthy and confident about yourself, it will radiate through.  I can honestly say, I'm completely comfortable being me, and that's an amazing feeling.
"It is what it is, but it will become what you make of it"
Your health is the foundation to living a life you'll love.  It's my mission to help guide you on your journey to being healthy and comfortable in your own skin by sharing what I've learned to live a healthy and balanced life.  Are you ready to take it to the next level?
I'm all in with you.
Let's find that ageless glow!
xoxo
Nikki