Ageless Glow
We've all been there.  You see an interview with J-Lo or Jennifer Aniston, and you immediately wonder why it is they never seem to age and how much they're spending to stay preserved in time.  So just what is their secret to having an ageless glow?  Truth is, there isn't one! Anyone can achieve it if they're committed to living a healthy lifestyle.  It doesn't matter how much money you have or how many expensive products you buy. You can't stop the clock.  Prevention is the key to anti-aging and keeping that ageless glow.
Glow From The Inside Out
It's about making the right food choices to fuel our bodies properly and to keep us feeling well.
It's about natural ingredients and avoiding the chemicals in our foods and knowing what's in the products we buy.
It's about creating healthy habits and sticking to them.
I'm here to help you cut through all the red tape and give you the help you need to slow and prevent aging – Naturally! There are no gimmicks.  It's just simple lifestyle changes you can make that will have you feeling like you stepped into the fountain of youth!
Let's Start With the Basics – What to Avoid at All Costs!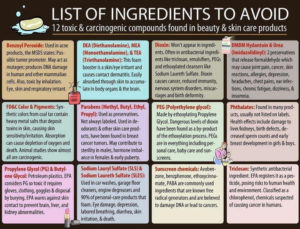 Always look for:
🍃 All-Natural

Non-Toxic
🚫 Free from Chemicals
🐾 Cruelty-Free
COMING SOON!
Ageless Glow Guide
The Ageless Glow Guide is packed with all the information you need to feel beautiful inside and out.
It includes:
The top anti-aging foods 
What to eat based on the changing seasons
Tips to prevent aging by living a natural lifestyle
How to avoid the "Major Agers"
Recipes
And  more!
Available soon for only $19.99